ONE N' ONLY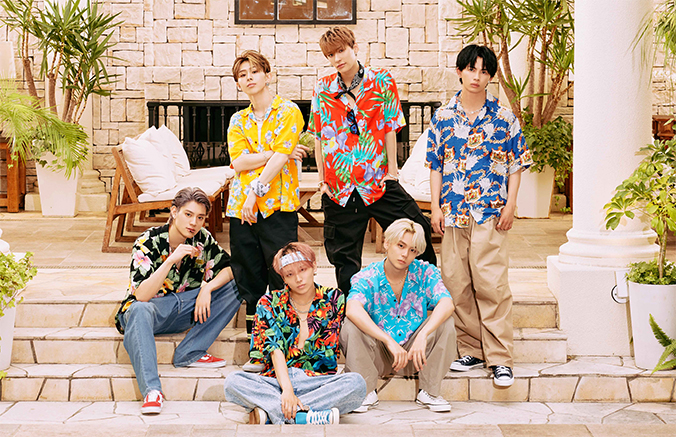 スターダストプロモーション所属の6人組男性グループ。
ボーカルTETTA、REI、EIKU。ラップ&ダンサーHAYATO、KENSHIN、NAOYAからなる6人組。
J-POPでもK-POPでもない、"JK-POP"として唯一無二のスタイルを貫くダンス&ボーカルユニット。
YouTube上に公開されたMusic Videoは世界各国注目され、特にアジア・中南米・欧州からのアクセスが殺到し、合計再生回数は2000万回を突破!
グループのTikTokフォロワー数は日本人男性音楽アーティスト1位の580万人超え!
TikTokの合計再生回数は5.2億回を突破している。

2022年7月にはブラジルで開催された南米最大のアニメフェス『Anime Friends 2022』で初の海外パフォーマンスを成功させ、2023年4月にはラテンアメリカツアー「LATIN TOUR 2023」も開催。10月からは47都道府県を回る「ONE N' SWAG ~Hook Up!!!!!!~」の開催も決定している。

———
ONE N' ONLY is a 6-member boy band hailing from one of Japan's top agencies, Stardust Promotion.
The lineup consists of vocalists (TETTA, REI, and EIKU) and rapper/dancers (HAYATO, KENSHIN, and NAOYA). Belonging neither to J-pop or K-pop, the band boasts their own unique style: JK-pop.
Their music videos on YouTube have been adored by fans all over the globe, especially those in Asia, Central America, and Europe, amassing over 20 million views.
ONE N' ONLY's TikTok ranks number one among Japanese male musical artists, with a following of over 5.8 million. Their total views exceed 520 million.

In July 2022, the band performed internationally for the first time at South America's largest anime convention, Anime Friends 2022. The following April, they embarked on a Latin American tour across three cities. ONE N' ONLY has announced a tour to all 47 prefectures of Japan starting this October.

メンバー
Vocalists
TETTA
Nov/24/1997
Vocalists
REI
Jan/2/1997
Vocalists
EIKU
Dec/19/1999
Rap&Dancer
HAYATO
Sep/17/1999
Rap&Dancer
KENSHIN
Jul/8/1999
Rap&Dancer
NAOYA
Apr/6/1998
DISCOGRAPHY
ONE N' ONLY
「EVOL」
配信日:2023.08.16
ONE N' ONLY
「Departure」
発売日:2023.05.17

Departure

初回生産限定盤

/ 1CD+Blu-ray

ZXRC-2097 / ¥7,500(税抜)

【収録内容】

CIRCLE

OPEN

We'll rise again

Step Up

Set a Fire

Departure

Hunt

Get That (PR-BR ver.)

Reflection

LUCKY

Good Day

YOU???

Last Forever

Call me

10,000miles

Get That




【封入特典】
スタンディングフォト(集合2種 ランダム封入)

【Blu-ray収録内容】

ONE N' LIVE 2022 〜UNITE〜"Special Edition"
2022年10月29日 Nakano Sunplaza Hall

LA DI DA

Sexy Beach Party Yes!!

Category

Dark Knight

L.O.C.A

UNITE Tour 2022 Rap Section

UNITE Tour 2022 Medley (I'M SWAG/GuRu GuRu/Everything's Changing/POP! POP!/Don't worry/Only One For Me)

STARLIGHT 〜未来ノトビラ〜

QUEEN

UNITE Tour Dance Section

What's Your Favorite?

We Just Don't Care

HOLIDAY

LUCKY

Step Up

Good Day

YOUNG BLOOD

My Love

通常盤

/ 1CD

ZXRC-2098 / ¥3,000(税抜)

【収録内容】

CIRCLE

OPEN

We'll rise again

Step Up

Set a Fire

Departure

Hunt

Get That (PR-BR ver.)

Reflection

LUCKY

Good Day

YOU???

Last Forever

Call me

10,000miles

Be Alright




【封入特典】
トレーディングカード(ソロ6種+集合1種 全7種ランダム封入)

★17曲入り「Special Edition」同日配信限定リリース!

「Departure (Special Edition)」
配信サイトはこちらから!→https://ssm.lnk.to/Departure_SE

CIRCLE

OPEN

We'll rise again

Step Up

Set a Fire

Departure

Hunt

Get That (PT-BR ver.)

Reflection

LUCKY

Good Day

YOU???

Last Forever

Call me

10,000miles

Be Alright

Get That

ONE N' ONLY
「OPEN」
配信日:2023.05.07
ONE N' ONLY
「Reflection」
配信日:2023.04.26
ONE N' ONLY
「We'll rise again」
発売日:2023.03.08

We'll rise again

TYPE-A

/ CD

ZXRC-1250 / ¥1,000(税抜)

【収録内容】

We'll rise again

GIFT

TYPE-B

/ CD

ZXRC-1251 / ¥1,000(税抜)

【収録内容】

We'll rise again

QUEEN




★3曲入り「Special Edition」同日配信限定リリース!
「We'll rise again (Special Edition)」
配信サイトはこちらから!→https://ssm.lnk.to/Wra

01 We'll rise again

02 GIFT

03 QUEEN

ONE N' ONLY
「Get That (PT-BR ver.)」
配信日:2023.02.24

Get That (PT-BR ver.)

【収録内容】

Get That (PT-BR ver.)

ONE N' ONLY
「YOU???」
配信日:2023.01.18
ONE N' ONLY
「Good Day」
配信日:2022.10.26
ONE N' ONLY
「Step Up」
配信日:2022.09.05
ONE N' ONLY
「LUCKY」
配信日:2022.06.17
ONE N' ONLY
「YOUNG BLOOD」
発売日:2022.02.16

YOUNG BLOOD

初回生産限定盤

/ 1CD+1Blu-ray

ZXRC-2086 / ¥7,500(税抜)

【収録内容】

YOUNG BLOOD

What's Your Favorite?

FOCUS

STARLIGHT ~未来ノトビラ~

Video Chat

L.O.C.A (PT-BR ver.)

We Just Don't Care




○Blu-ray
ONE N' LIVE ~Zepp Tour 2021~ "Special Edition"
2021年7月10日 中野サンプラザ 公演 ノーカット収録

通常盤 TYPE-A

/ 1CD

ZXRC-2087 / ¥2,300(税抜)

【収録内容】

YOUNG BLOOD

What's Your Favorite?

FOCUS

STARLIGHT ~未来ノトビラ~

Video Chat

L.O.C.A (PT-BR ver.)

通常盤 TYPE-B

/ 1CD

ZXRC-2088 / ¥2,300(税抜)

【収録内容】

YOUNG BLOOD

What's Your Favorite?

FOCUS

STARLIGHT ~未来ノトビラ~

JUST LIKE ME

L.O.C.A

ONE N' ONLY
「What's Your Favorite?」
配信日:2022.01.05

What's Your Favorite?

【収録内容】

What's Your Favorite?

ONE N' ONLY
「We Just Don't Care」
配信日:2021.12.15

We Just Don't Care

【収録内容】

We Just Don't Care

ONE N' ONLY
「L.O.C.A (PT-BR ver.)」
配信日:2021.09.03

L.O.C.A (PT-BR ver.)

【収録内容】

L.O.C.A (PT-BR ver.)

購入はこちら

ONE N' ONLY
「Video Chat」
配信日:2021.06.09
ONE N' ONLY
「L.O.C.A」
配信日:2021.01.20
ONE N' ONLY
「JUST LIKE ME」
配信日:2020.10.14
ONE N' ONLY
「ON'O」
発売日:2020.04.15

ON'O

TYPE-A

/ CD ONLY

ZXRC-2062 / ¥2,500(税込)

【収録内容】

I'M SWAG

Dark Knight

Breathe

HOLIDAY

POP! POP!

Beautiful

Everything's Changing

Don't worry

Sexy Beach Party Yes!!

Category

Shut Up! BREAKER

My Love

もっと大きな愛で包み込むから... (ONE N' ONLY feat. K)

Destiny (ONE N' ONLY feat. JUNE)

Only One For Me

TYPE-B

/ CD ONLY

ZXRC-2063 / ¥3,000(税込)

【収録内容】

I'M SWAG

Dark Knight

Breathe

HOLIDAY

POP! POP!

Beautiful

Everything's Changing

Don't worry

Sexy Beach Party Yes!!

Category

Shut Up! BREAKER

My Love

もっと大きな愛で包み込むから... (ONE N' ONLY feat. K)

Destiny (ONE N' ONLY feat. JUNE)

Only One For Me

恋はタイミング / EBiSSH

夏へダイビング / SBC

TYPE-C

/ CD+Blu-ray

ZXRC-2064 / ¥4,000(税込)

【収録内容】

I'M SWAG

Dark Knight

Breathe

HOLIDAY

POP! POP!

Beautiful

Everything's Changing

Don't worry

Sexy Beach Party Yes!!

Category

Shut Up! BREAKER

My Love

もっと大きな愛で包み込むから... (ONE N' ONLY feat. K)

Destiny (ONE N' ONLY feat. JUNE)

Only One For Me




[DISC 2]

ONE N' ONLY ~EBiSSH×SBC~ Zepp Tour 2019
2019.11.24 @Zepp DiverCity

LA DI DA

Black Hole

Don't worry

Dance section

Bla Bla Bla

ONE N' ONLY
「Category / My Love」
発売日:2019.10.16

Category / My Love

TYPE-

ZXRC-1213 / ¥1,091+税

【収録内容】

Category

My Love

LA DI DA

TYPE-B

ZXRC-1214 / ¥1,091+税

【収録内容】

Category

My Love

HOLIDAY

TYPE-C

ZXRC-1215 / ¥1,091+税

【収録内容】

Category

My Love

Don't worry

ONE N' ONLY
「Dark Knight」
発売日:2019.05.08

Dark Knight

TYPE-A

ZXRC-1189 / ¥926+税

【収録内容】

Dark Knight

POP! POP!

TYPE-B

ZXRC-1190 / ¥926+税

【収録内容】

Dark Knight

Black Hole

TYPE-C

ZXRC-119 / ¥926+税

【収録内容】

Dark Knight

Bla Bla Bla

ONE N' ONLY
「I'M SWAG」
発売日:2018.11.21

I'M SWAG

TYPE-A

ZXRC-1173 / ¥926+税

【収録内容】

I'M SWAG

Sexy Beach Party Yes!!

TYPE-B

ZXRC-1174 / ¥926+税

【収録内容】

I'M SWAG

What About This?

TYPE-C

ZXRC-1175 / ¥926+税

【収録内容】

I'M SWAG

Everything's Changing